Background
Farok Bulsara was born on the 5th September 1946, on the Island of Zanzibar, East Africa, to Indian parents Bomi and Jer. He attended an English Boarding school near Bombay, India, until he was 17. By this stage of his life, Farok had excelled in studies, sports activities, and piano playing.

He later moved to England to complete an art and design course. Finally in 1970, he renamed himself Freddie Mercury - 'messenger of the Gods'.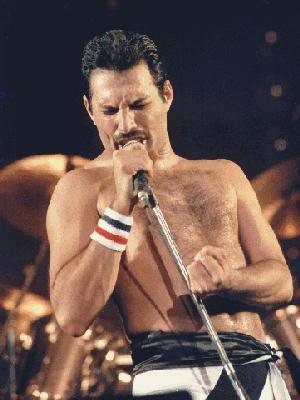 Musical Ambition
In the early 1970's Freddie involved himself in musical acts Sour Milk Sea, Wreakage, Larry Lurrex, and Smile. He had always emphasised to fellow band mates the need to be orignal. "Art School teaches you to be more fashion conscious, to be always one step ahead", he would say.

He soon teamed up with Brian May, Roger Taylor, and John Deacon to form 'Queen'. Mixing styles of heavy metal and glam rock, their first hit came in 1974 with 'Killer Queen'.
Queen of Rock
With Queen, Freddie achieved great musical success through a consistent period of 20 years. Popular songs he was credited to writing were Bohemian Rhapsody, Somebody to Love, We are the Champions, and Crazy Little Thing Called Love to name a few. Less commercial gems include Nevermore, Millionaire Waltz, and Love of My Life.

His dynamic presence and vocal abilities on stage make him one of the greatest Rock and Roll singers of our time. Scenes from Wembley Stadium at Live Aid 1985 and 1986, are truely memorable.

During the mid 1980's Freddie recorded solo works such as 'Mr Bad Guy', and an attempt at opera singing in 'Barcelona'. He was the first and only rock and roll singer to have composed, recorded, and performed classical opera.

Sadly, bad news came on the 24th November 1991. Freddie Mercury had been suffering from Aids and as a result died of bronchial pneumonia due to his crippled immune system unable to fight.

Andrew Bee,
February, 2001

Email:
bee_andrew@hotmail.com